Fire Fighting Trailers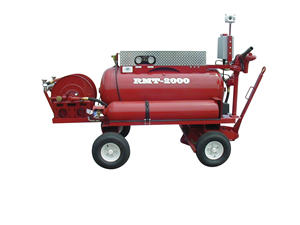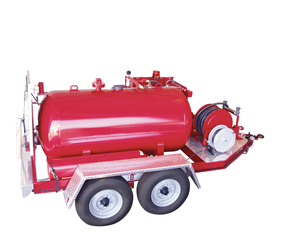 Fire Combat's portable, reliable fire fighting trailers are available with single-, dual-, and triple-agent capabilities (clean agent, dry chemical, foam, etc.). These rugged, standalone fire fighting systems provide totally independent, self-contained, unmanned fire suppression.
Our RMT fire trailers are specially designed for use in enclosed areas. These portable fire suppression systems will automatically detect flames and extinguish them with automated CAFS technology and oscillating discharge nozzles. RMT models provide up to 7,800 square feet of unmanned fire protection.
The Defender One is a trailer-mounted, mobile, automatic fire fighting system. It provides self-contained, unmanned fire suppression, with state-of-the-art sensors and controls and fully-automated, oscillating discharge turrets. A 500-gallon agent tank and solar-rechargeable battery power make the Defender One ideal for a wide range of firefighting applications.
Halotron firefighting skid units are a powerful and environmentally-acceptable alternative to truck-mounted Halon 1211 systems. These fire protection systems can be customized to meet your application and performance requirements.
Fire Combat's foam trailer systems can be custom-tailored to your unique firefighting needs. Features such as tank capacity, discharge device, and more can be modified to ensure optimum fire suppression for your application. Our foam trailer fire fighting units are built to US DOT CRFR 393 standards.
A twin agent unit provides "double duty" protection, using dry chemical fire suppression to knockdown flames and aqueous film to secure the fire area. The portable fire suppression systems are fully self-contained, easy to maintain, field rechargeable, and designed for use by a single operator.
Request a quote on a fire trailer for your application. Or, contact Fire Combat for more information.